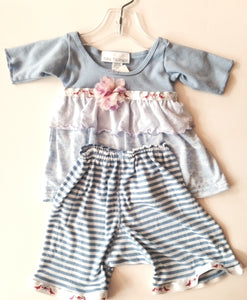 2-Piece Toni Tierney Outfit/ "Love Birds"
Toni Tierney
Regular price $50.00 $42.00 Sale
Adorable 2-piece outfit! The top has a charming flower attached to a sewn-on ribbon featuring images of 2 birds holding a heart! The bottoms have the same ribbon sewn to the hem of the pants!Available in multiple sizes!
100% Cotton. Machine Wash Cold. Tumble Dry Delicate Cycle. Medium temp. iron. No buttons, zipper or velcro! Just slip it on!
Several elements differentiate Toni's designs from the other lines of children's clothing on the market. First and foremost,each piece is detail driven. Her products are not highly manufactured, but she designs in the moment creating wonderful trends from interesting types of fabrics, lace and trim. Another quality that differentiates Toni's designs is, in support of American cotton mills, all of her pieces are made from 100% cotton knit with comfort, durability and affordability being of utmost importance.